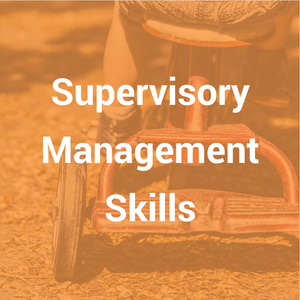 Supervisory & Management Skills
Mark Hatter Associates
Regular price $218.00 Sale
Course Trainers
Mark Hatter
About The Course
High quality and consistent supervision is integral to ensure commitment of reflective social work best practice in the workplace and in 'safe' caseload management. It is essential that the core components of the 'social work employer's standard and supervision framework' (as identified in by the Social Work Taskforce in 2009) are always identified and adhered to with staff members, in order that there is continual development of the individual's professional judgment and skills and assists in the support in their vital role.
In our one day overview course, you will learn about the essential requirements of effective reflective supervision and the importance of consistency in management style through supervision and guidance. This course is applicable to any service manager / team manager or assistant team manager who is responsible for a social work team, whether in Adult or Children Services in all multi-disciplinary teams.
Learning Outcomes
The delegate will improve and enhance their people management and supervision methods and delivery, including the following:
Introduction of a variety of supervisory methods and models for all staff to ensure use of appropriate supervision and appraisal records are recorded under the Supervision Framework, through theoretical knowledge and application through 'real-life' role play exercises.
Effective management of performance to ensure best practice consistently from all team members.
Development of Leadership skills and managing processes of change.
Guidance in Leading and managing the Ofsted Inspection Process.
Understanding Conflict resolution to minimise any difficult or challenging behaviour.
Ensuring all staff are effectively and positively supported and encouraged to ensure high and consistent productivity levels.
Course Delivery Method
To ensure that all learning styles are accommodated there will be a mix of delivery methods, including large and small group discussions, practice-based scenario exercises, shared experience opportunities and question and answer sessions, as well as the visual presentation of factual content. Handouts will be provided for further guidance and research.